Buff & Coat Hardwood Floor Renewal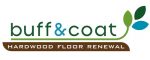 Business Name:
Buff & Coat Hardwood Floor Renewal
Buff & Coat provides a great way to give your floor a beautiful facelift and at the same time the protection it needs to keep it looking good for years. Using a dustless, odorless, one day process, we buff away surface scratches and scuffs to leave floors and stairs looking "like new" again with a fantastic finish.
Buff & Coat Hardwood Floor Renewal was founded in the Minnesota Twin Cities in 2002 by longtime experienced hardwood flooring experts. They started expanding nationally in 2008 and Ray Horan partnered with Greg and Eileen Strejc to purchase and open the first Buff & Coat in Illinois in early 2010. We operate as a small family business focusing on value and convenience, plus caring customer service. Prior to Buff and Coat, Ray worked as a senior manager in the home building industry for over ten years and Greg, a master carpenter, has owned and operated Skill-built Home Remodeling for three decades. Eileen, our office manager, coordinates the scheduling and is responsible for delivering a superior customer service experience. Our technicians are trained and responsible for treating each customer, their home and floor as if it they were there own.