Clean Pest Solutions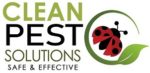 Business Name:
Clean Pest Solutions
Why Choose Clean Pest Solutions?
We offer a 100% Satisfaction Guarantee. As our client if you are not satisfied with our services, we will return to your home or business and diligently work to solve the problem. If the pest problem is not solved to your satisfaction we will keep working until you are completely satisfied or give you a refund.
We offer a 30 day guarantee for single services.  (Clean Pest Solutions guarantees our work for 30 days after the time of service on the specified pest)
We offer digital reporting that will include details of when we serviced your home or business, the duration of our visit, what products we applied and any recommendations we may have after visiting the site.
We are a family run business. You will receive personalized service and won't get lost in the shuffle of one of the large corporate exterminator companies.
We practice integrated pest management.  Integrated pest management (IPM) is an effective and environmentally sensitive approach to pest management that relies on a combination of common-sense practices.  This means we will come in and customize the treatment for your specific needs. Insuring the highest levels of efficacy and safety for your family or business.
To Learn more about our different services and packages, give us a call at (630) 621-3333