Roofing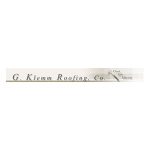 Whether you have a roof problem or are anticipating the need for a new roof, we can help!
Gerry Klemm started G. Klemm Roofing in 1994. His goal has always been to provide an honest and professional service for residential reroofing and repair in the Tri-Cities and surrounding communities. He wanted to help raise the bar in the trade by providing quality roofing work to homeowners done by first rate craftsmen who would treat the job as if it was their own home. Our motto is simple: No repair is too small and we will never try to sell you a roof before it's time.
Over the years, the business has grown and we have become well known as a company that can solve problems where others attempts have failed. Today we have ten excellent employees and we also use a great sub crew.
Business Address
321 Stevens Street
Geneva IL
60134