Commercial Cleaning Services
Business offices, apartment & condo building common areas, hotels and restaurants
Great Guys commercial cleaning services cover these and more!
Commercial cleaning services for your office and common areas
Your business lobby, office, hallways and common areas can have an impact on customers' first impressions. You hired a great cleaning crew to do the basics. Sometimes that's not enough. All kinds of dirt, dust and contaminants hit your carpets and upholstery on a daily basis. Never fear, the Great Guys commercial cleaning service can help! Hotels, restaurants, apartments buildings, large warehouse facilities, condominiums complexes, sporting arenas…all need to cleaning. And Great Guys can handle them all!
Why call the Great Guys for commercial cleaning services?
We will give you a fair and honest price the first time.
As small business owners for over 20 years, we know what it means to run a tight ship. We also know you don't have time to haggle for every service you buy. A Great Guys owner analyzes every job before we issue an estimate. That means we give you a fair and honest price the first time.
The Great Guys have a 100% satisfaction guarantee.
If you're not happy with our commercial cleaning service the first time, we'll do it all again for free. And if you're still not satisfied, we'll keep cleaning until you are 100% satisfied  – no hassles.
Our nine-step experience delivers great results every time.
Our professionally-trained technicians follow a nine-step process designed to insure your satisfaction. Then, when your carpets and upholstery are clean, we'll walk you and your staff through a list of tips and tricks to help keep them clean longer. That's money saved!
Our staff is always professional.
Our technicians are fully trained in the latest professional carpet and upholstery cleaning methods. You'll notice a difference in the way we communicate, dress and behave.
We respect your business constraints.
If you need us there during business hours, rest assured the disruption to your staff and customers will be minimal. And if you'd rather we work after hours, that's OK, too. In fact, our clients know we can be trusted to keep disruption to a minimum and convenience to a maximum.
Shopping local matters.
Owners and managers of small, independent businesses know that shopping local makes a difference. More money stays in our community. That helps grow other businesses as well as our tax base. Local independent business owners have a greater stake in their brand and reputation. That means you get better service and reliability.
Great Guys' Super-Quiet Cimex Commercial Carpet Cleaner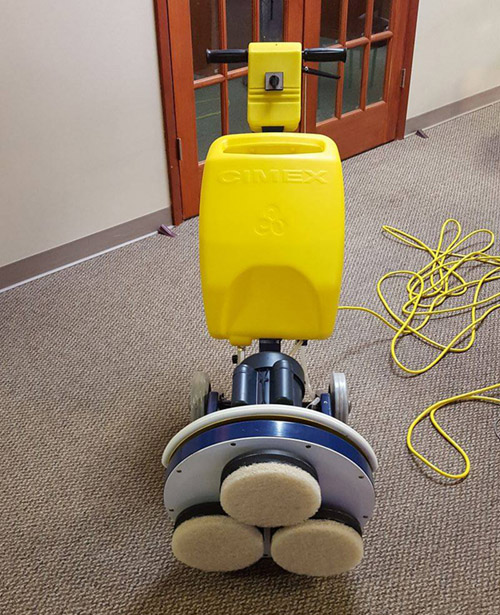 The Great Guys commercial cleaning system is quiet!
Our new commercial carpet cleaning system is so quiet, it can even be used near your call center when it's in operation.
Get your free commercial cleaning estimate today!