All About the Great Guys
Fox Valley Carpet Cleaning, Upholstery Cleaning, Duct Cleaning and More
A clean image in everything we do!
Great Guys Cleaning & Concierge is the local choice for Fox Valley carpet cleaning, upholstery and air duct cleaning and so much more!
The Great Guys take pride in offering the most professional carpet, tile, upholstery and air duct cleaning process available in the area. We bring an expectation of excellence every time we come to your home or office. Homeowners and business managers notice a difference in the way Great Guys team members communicate and dress.
But the most important difference is in the results we deliver. Our staff is fully trained and skilled in our cleaning methods. At the end of every job, we complete a nine-step checklist that ensures top-quality and consistency. You will be satisfied with the cleaning services provided by the Great Guys because we are the best carpet, upholstery, tile and air duct cleaning service in the Fox Valley and beyond!
If you're looking for more cleaning, maintenance and building trades professionals, you've come to the right place. If the Great Guys don't provide the service themselves, our concierge service can locate the right provider for you. Check our Concierge Services page for listings or give us a call for more information.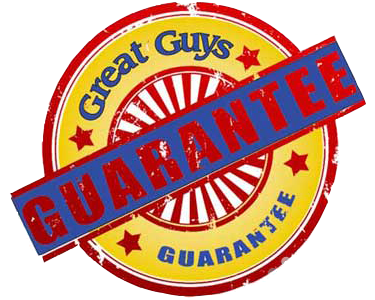 The Great Guys Fox Valley Carpet Cleaning Guarantee
Great Guys 100% guarantee is simple – you will be completely satisfied with our carpet, upholstery and duct cleaning service or we will do the job over again. If you are still not satisfied, we will keep cleaning until you're 100% satisfied! It's another example of how the Great Guys put the client first every time!